Pixel Ruler for Mac
Generally speaking, it is very troublesome to measure dimensions of objects on the desktop with a real ruler. You can try powerful Mac pixel ruler program, also called Ondesoft Screen Ruler for Mac . Ondesoft Screen Ruler on your Mac OS allows you to accurately measure all your on-screen elements. This ruler will tell you the dimensions in pixels precisely.
Rotation and diagonal measurement supported
You can measure any oblique object with this ruler. All you need is to "Set angle" for the ruler.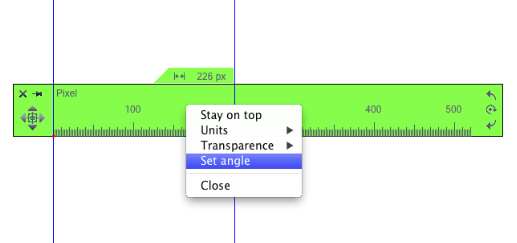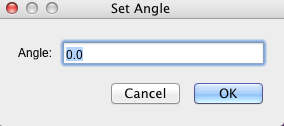 Set an angle directly
Input the right angle and the ruler will rotate to assure objects and base line are perfectly perpendicular.
Sometimes you may have no idea of the exact angle, then you can use with , for slight rotation. In addition, you can use Command + to rotate to a fixed angle of 45° at one time.
The and Detail window can help to get precise positioning by removing the ruler slightly.
Keyboard direction keys (up - ↑, down - ↓, left -←, right - →) under the magnifying effect of Detail Window will move measured line or cursor slightly to any desired position for precise positioning.
Measure the angle first
Another solution: Ondesoft Screen rulers contain a Protractor ruler. So you could measure the angle first, and then input it to measure the length of oblique objects.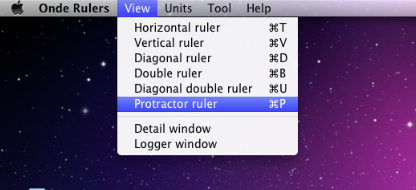 The interface is displayed as below: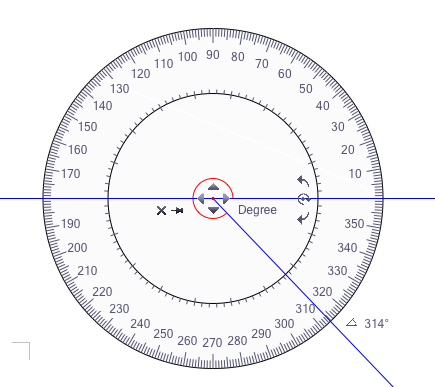 Functions
Measure angles in degrees or radians.
Define your personal units.
Open Detail window for precise positioning.
Record results with the Logger window.
Useful tips
Left click on the "Degree" to replace units or right click on the ruler to calibrate the units.
Right click on the ruler you also can customize angle, transparency and etc.
Use with , for slight rotation.
The is used to remove the ruler slightly in four directions.
Left click on the or right click on the ruler to choose "stay on top".
Click to rotate swiftly.